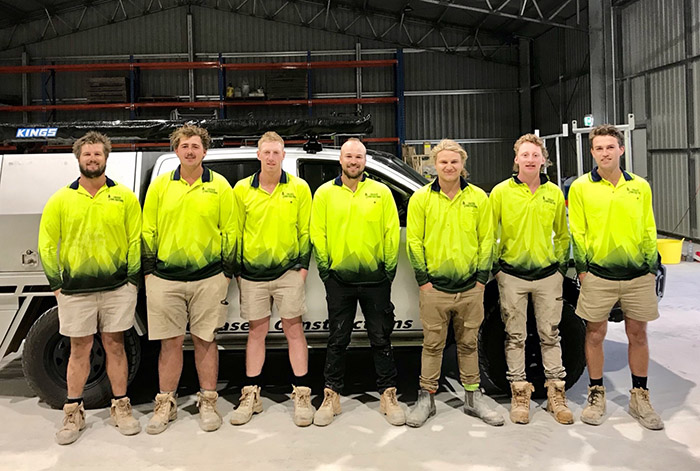 Creaser Constructions is an innovative and reliable business that looks after their customers. Our number one priority is making sure our customers are 100% satisfied with the result of our work. We listen to the needs and wants of our customers and work flexibly, accommodating to budgets and timelines.
Take comfort in knowing Creaser Constructions are the locals within your community. Our reputation is paramount, and we take that commitment very seriously. We provide free quotes but also give you the opportunity to meet us in person. It's that little extra reassurance we give you, so you're confident you're in safe hands. We're respected within the area and we will continue to live up to that in our present and future work.
We want to be the first name people think of when they think of quality building projects.
Creaser Constructions are a locally run business, servicing the South East of Australia, including the Tatiara, Limestone coast, and Western district of Victoria. We're an established business that has been working within the area for over 7 years. We're a team of highly qualified professionals with a broad skill set, offering a range of services throughout the community.
Who we are
What makes Creaser Constructions unique is we can offer you a range of different service's that can be needed to complete one project. Our team have the expertise across all areas of construction. We're able to brick lay your new house project and excavate and level in preparation for your new driveway. We can then concrete your driveway, build your property's fencing and landscape. Yes, at Creaser Constructions we can do it all (well, almost)!
We can also assist in the planning stages to help with budgeting and design. When there are good planning, projects are most successful. We will add value to your next project through our design and management experience. We'll work to minimise risk through construction techniques that have worked well before, and of course, that haven't worked quite as well! Therefore, when it comes time to build – we're ready to hit the ground running.
Creaser Constructions work with modern well-maintained machinery and equipment. Our team of highly trained and committed employees ensure that the professional reputation earned by Creaser Constructions for quality, safety & environmental, is delivered without compromising projects budgets and schedules.
Shaun Creaser oversees each project to ensure the project is completed to our exceptional standards. Shaun likes to be involved each job, so that he can answer any questions or provide advice if and when required.
Our construction processes guarantee you remain in control of the entire project. We pride ourselves on adhering to the highest of standards and work alongside you, every step of the project.
We specialise in:
Access to reliable machinery
We've got the right tools for the job.
Creaser Constructions have vehicles and machinery assets, allowing us to minimise project delays for our customers. Building with Creaser Constructions provides ongoing access to the resources and machinery needed to complete your project on time, and on budget.
List of machinery
1.9T Mini Wacker Neuson Excavator
5.5T Yanmar Excavator
8T Hyundai Robex Excavator
We also work closely with Creaser Haulage & Bobcat who have Bobcats and a Truck & Dog to do most of our site preparation if required.
The benefits of working with professional networks and connections
Creasers Constructions maintains a close network of local businesses and can work together to complete a project. We can work alongside our trusted connections, without the hassle of involving further contractors that may be out of the loop. These skilled, reliable professionals share Creaser Constructions' commitment to completing the project of the highest quality on time, and on budget.
Creaser Constructions have developed excellent relationships with suppliers and businesses in the local industry. These relationships extend local knowledge which helps run a smooth, efficient project.
Creaser Constructions have grown from strength to strength and will continue to do so well into the future.